UNMAM Celebrates Birthday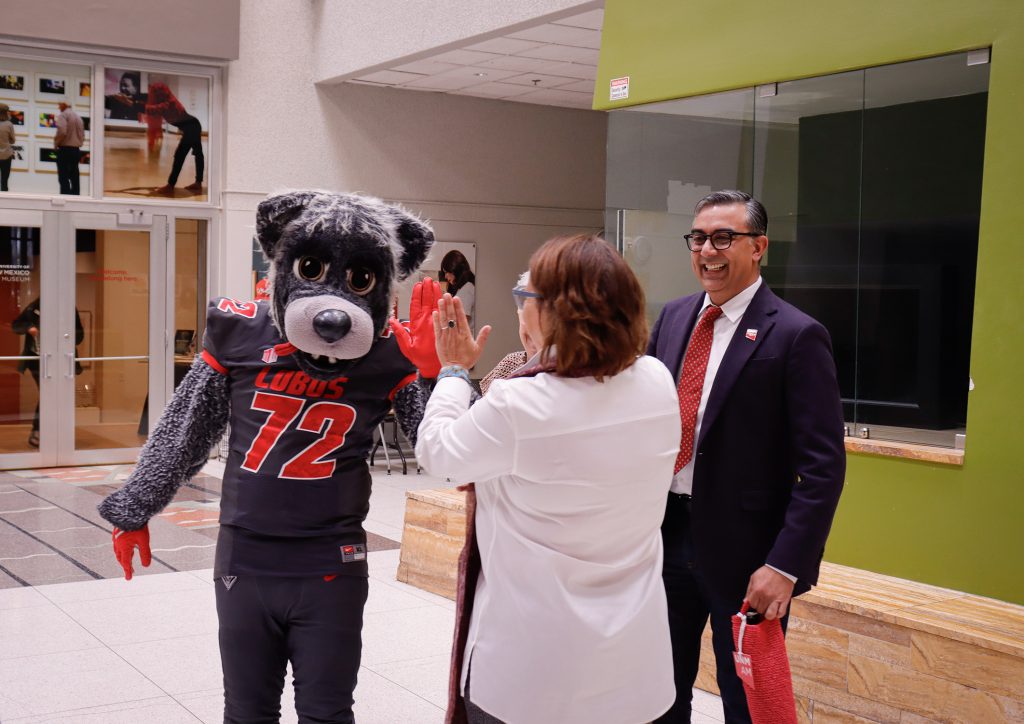 On Tuesday, October 10th, we celebrated the museum's birthday alongside over 100 guests from across the campus community and a special appearance by UNM's Mascot, Lobo Louie! October 10th marks the opening of the first exhibition at UNMAM. Our latest "From the Archives" post, written by UNMAM Research Assistant Hannah Cerne, explores UNMAM's first exhibition and the artists exhibited. 
Throughout the day, we shared coloring pages, practiced slow looking, and bonded over refreshments. Programs Assistant Justine Witkowski helped create educational handouts about printmaking and photographic processes, as well as writing and drawing prompts for the exhibitions. In the afternoon, museum staff and guests gathered to enjoy cake together, cut and served by Director Arif Khan.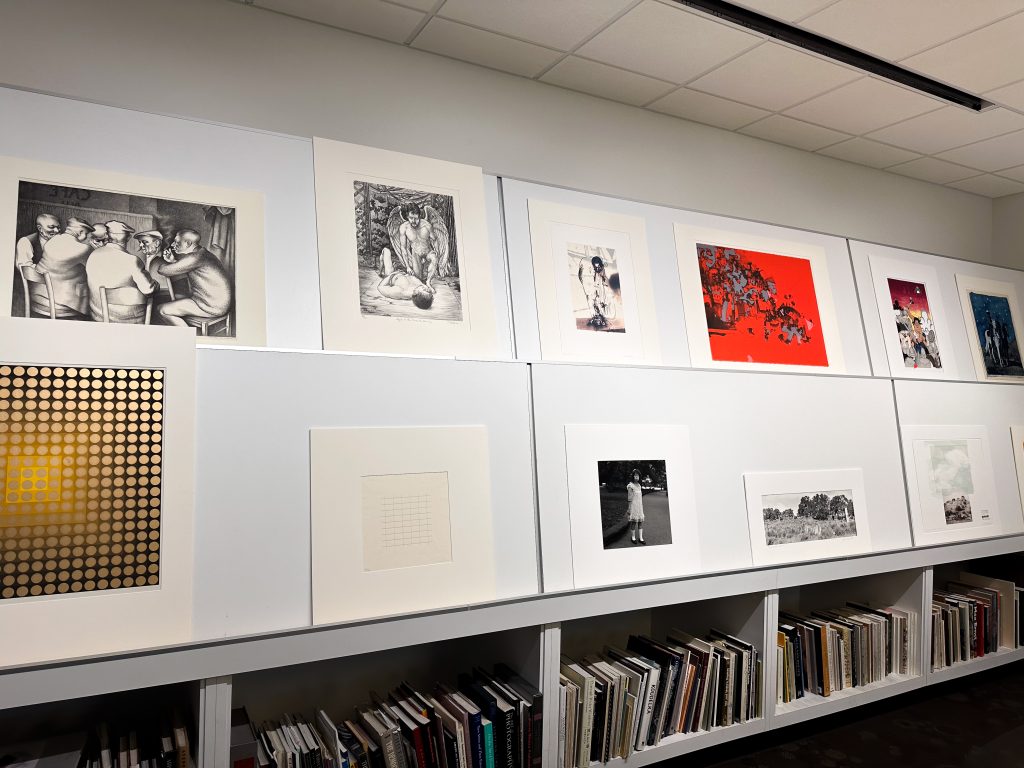 Later in the day, a group of artworks selected by our Student Advisory Council were on display in the Beaumont Newhall Study Room. The selection included pieces made by artists such as Jason Garcia, Agnes Martin, and Josef Albers.
UNMAM SAC members Nathaniel Rudolph (BA Interdisciplinary Arts, 2024), Laura Olson (MM Musicology, 2024), and Armelle Richard reflected upon the experience of pulling pieces from our collection.
"Of all the artists I saw on the catalog, Josef Albers stood out to me the most. He is an artist, designer, theorist, and printmaker. The piece that was ultimately selected (White Line Squares VI) was to show case his expertise in color theory in an abstract format. To see the true colors in person was amazing." said Nathenial Rudolph.
"Puppeteer II by David Humphrey and Pie Town by Joan Myers were the pieces I chose partly based on their names and partly to make sure diversity was included in the selections. I had a specific picture in my mind for what each piece looked like but was pleasantly surprised when they didn't meet my expectations. Getting to pick out pieces and explore the collection is a unique experience that many museums don't offer and I'm grateful I was able to participate." said Laura Olson.
"It was important to me to include a lithography print from the Tamarind Institute collection to commemorate their affiliation with The University of New Mexico Fine Arts Department and the Art Museum." said Armelle Richard. 
We would like to thank our team of Museum Assistants, the members of the Student Advisory Council, UNM Catering, Zacaria Adonicam, and Lobo Louie. View a gallery of images from our birthday below!