Welcome, you belong here.
The University of New Mexico Art Museum is dedicated to advanced learning and creating connections, both in and outside of the University community. As a teaching museum, we are committed to offering students professional development and mentorship opportunities as well as access to the largest collection of artworks in New Mexico.
UNMAM offers entry at no cost, educational programming, and up-close access to historically significant artworks alongside the works of exciting, emergent artists. We hope that your museum experience will inspire you to return again throughout your studies and past your graduation.
Outside of a visit to UNMAM, we offer a variety of ways for UNM students to connect to the Museum and its staff. This page will be your go-to guide for opportunities and experiences at UNMAM, along with a dedicated space to celebrate the accomplishments of you and your fellow Lobos. We will update this page as new opportunities become available.
During your time at The University of New Mexico, the UNM Art Museum is your museum. Welcome, you belong here.
Student Life @ UNMAM
Use #UNMAMstudentlife on social media to be featured, or submit photos to dgeraci@unm.edu.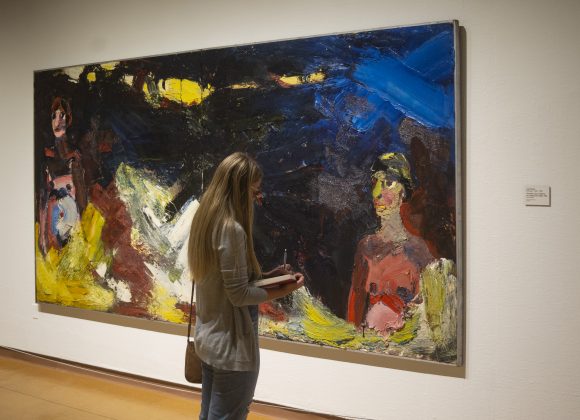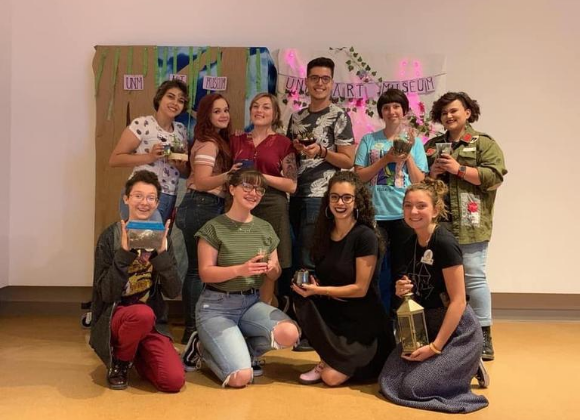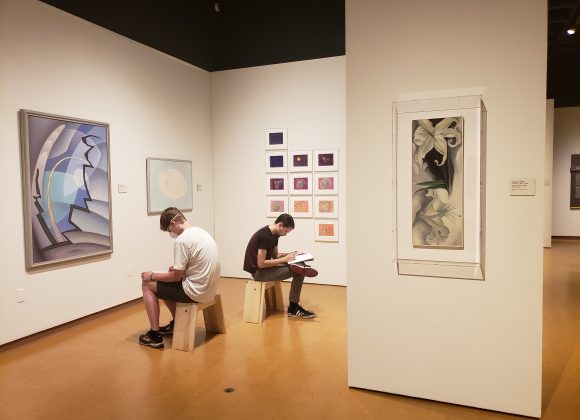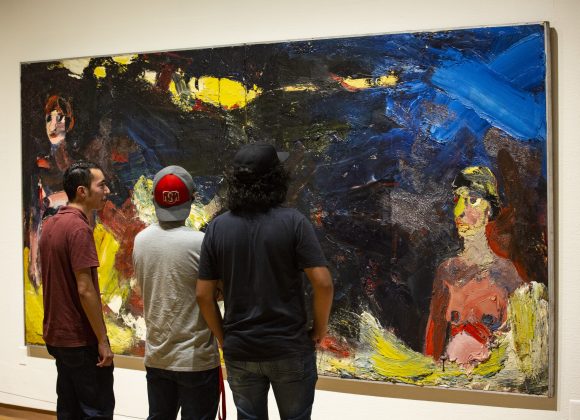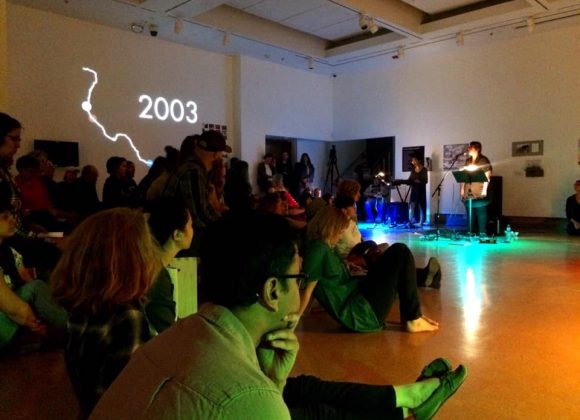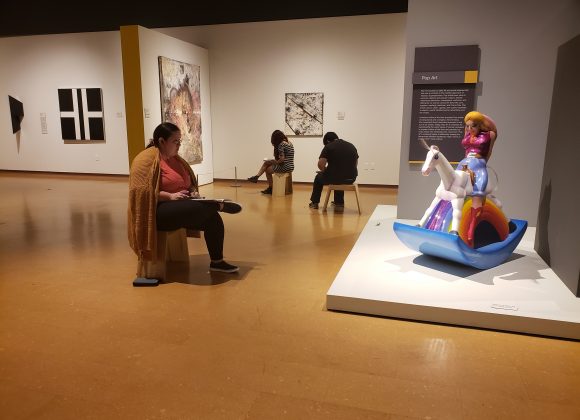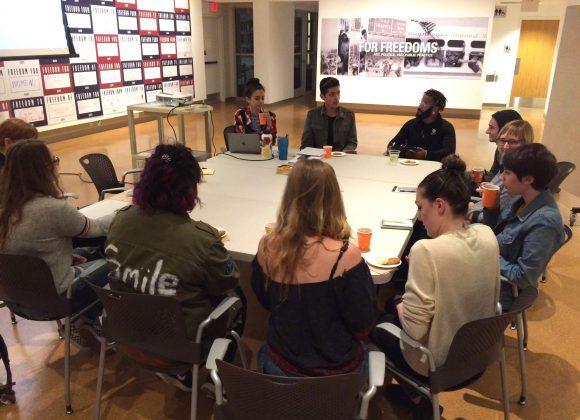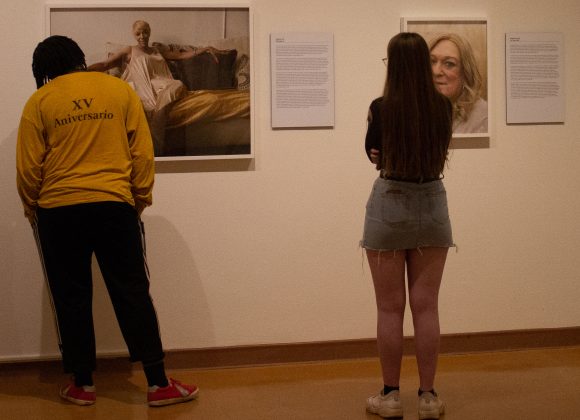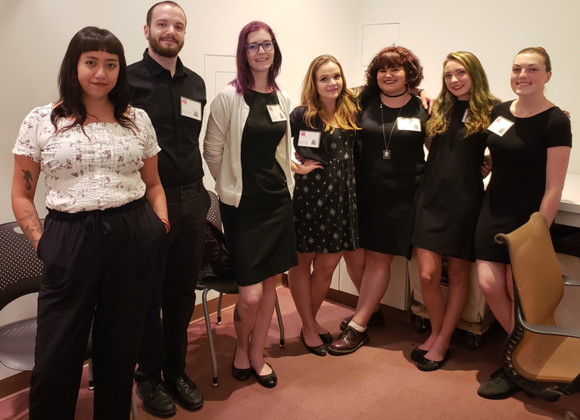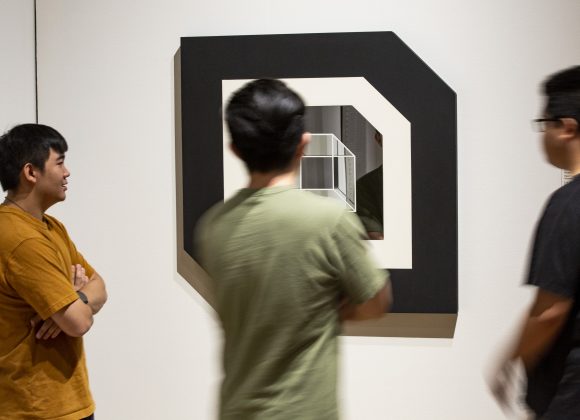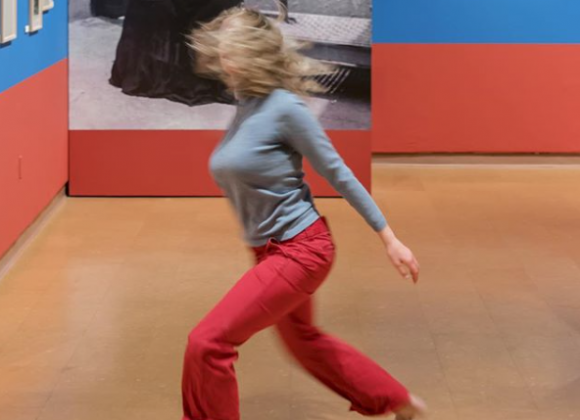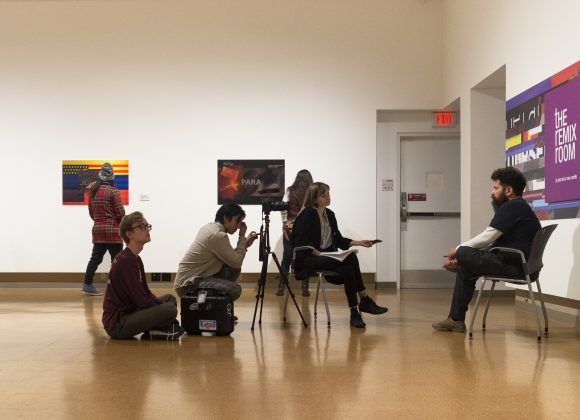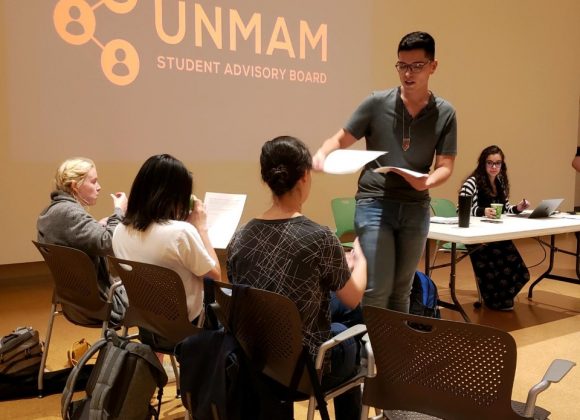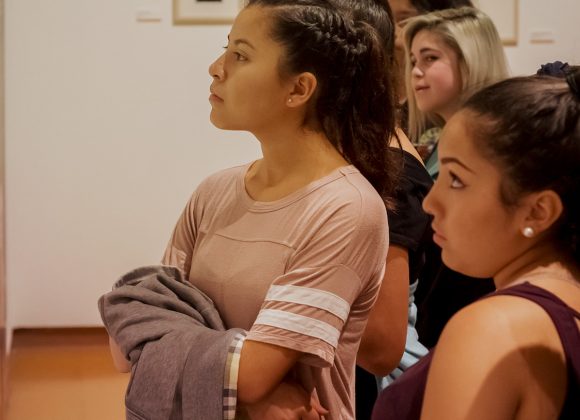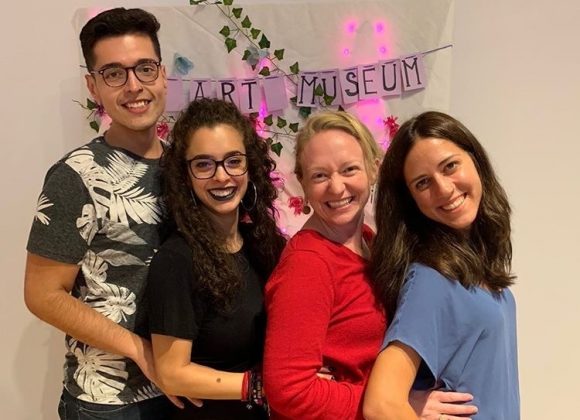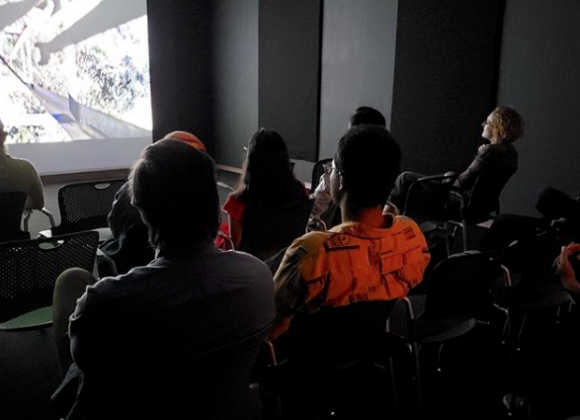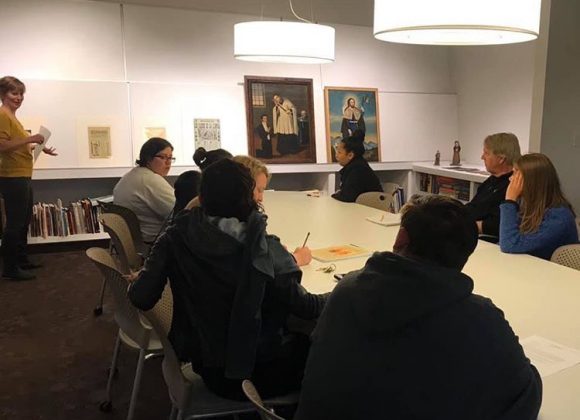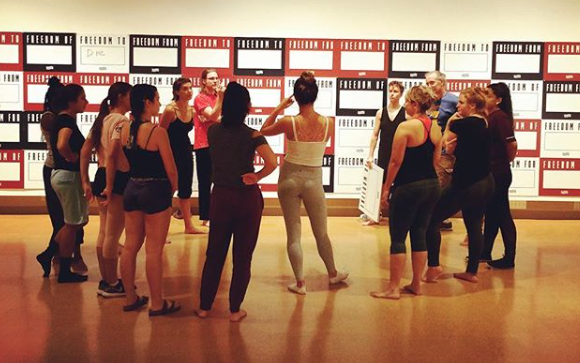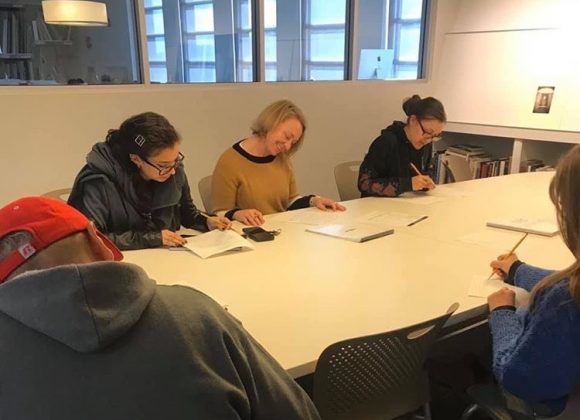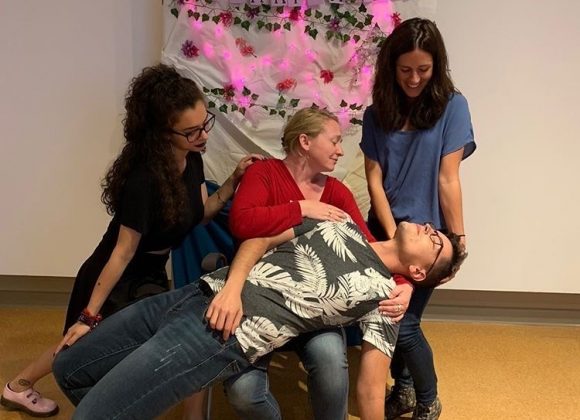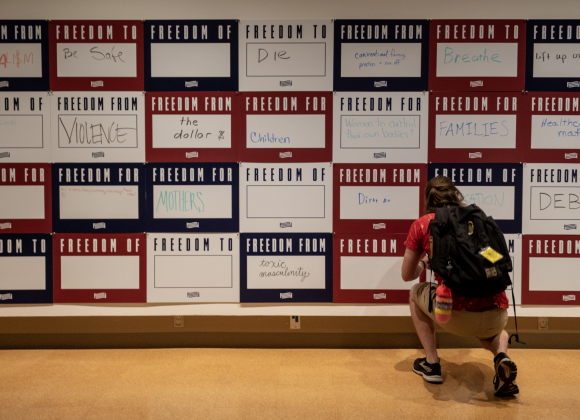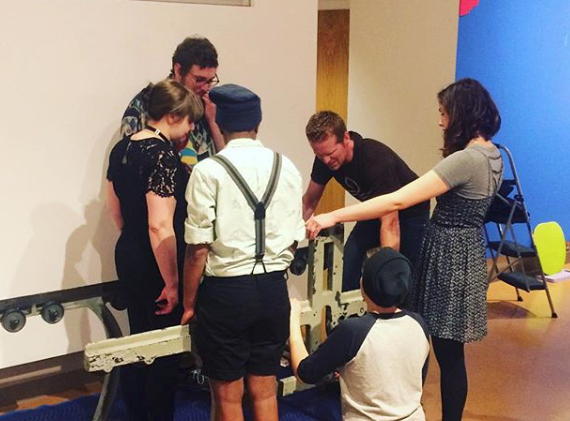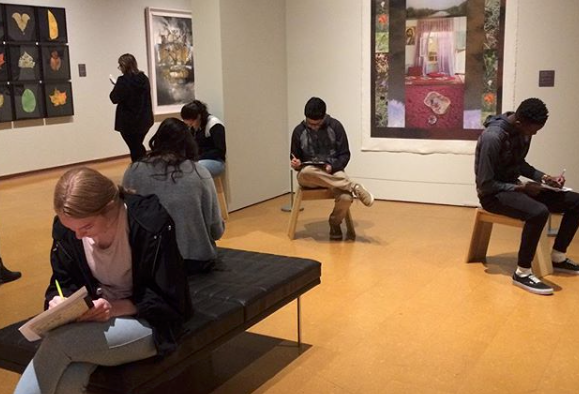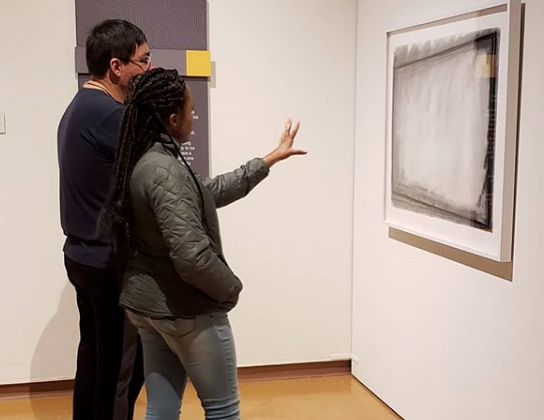 Opportunities
The Museum Assistant is the main point of contact for the public to interact with the Museum and its staff. While customer service is the primary role of the Museum Assistant at the UNMAM, this position holds a number of important responsibilities that will help the rest of the UNMAM staff. The primary duties can be broken down into the following categories:
Customer Service

Security & Operations

Programming & Event Assistance
Any degree-seeking student is eligible to apply for the position of Museum Assistant at the UNM Art Museum, with preference given to those with work study awards.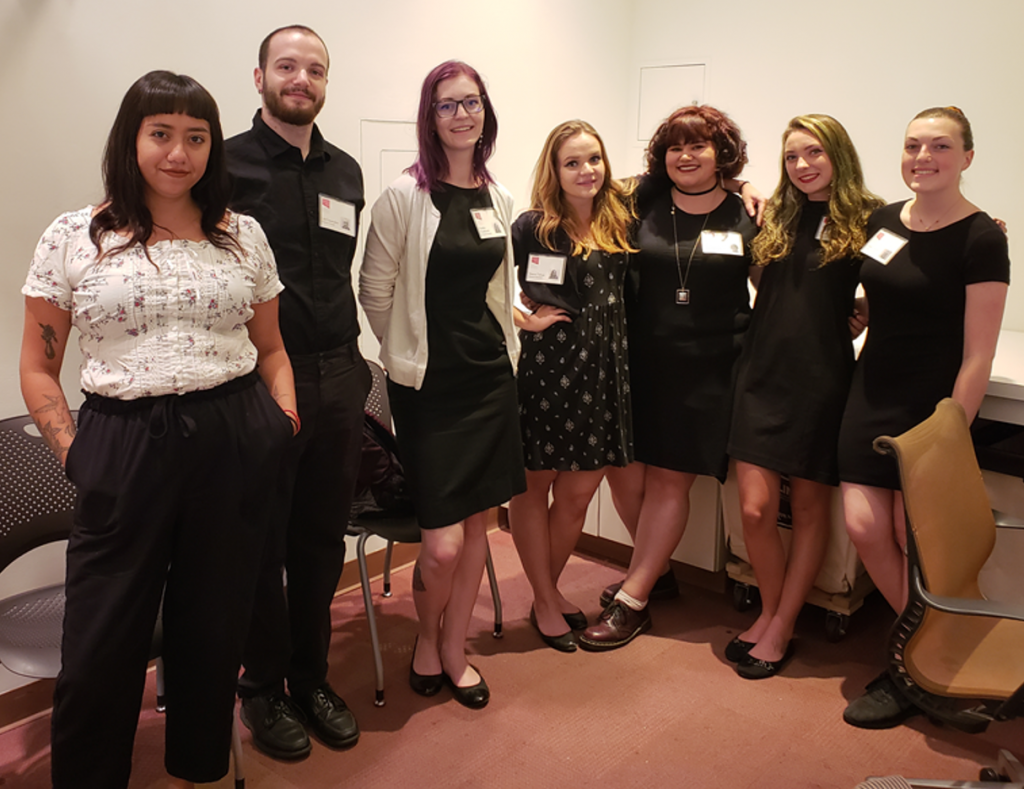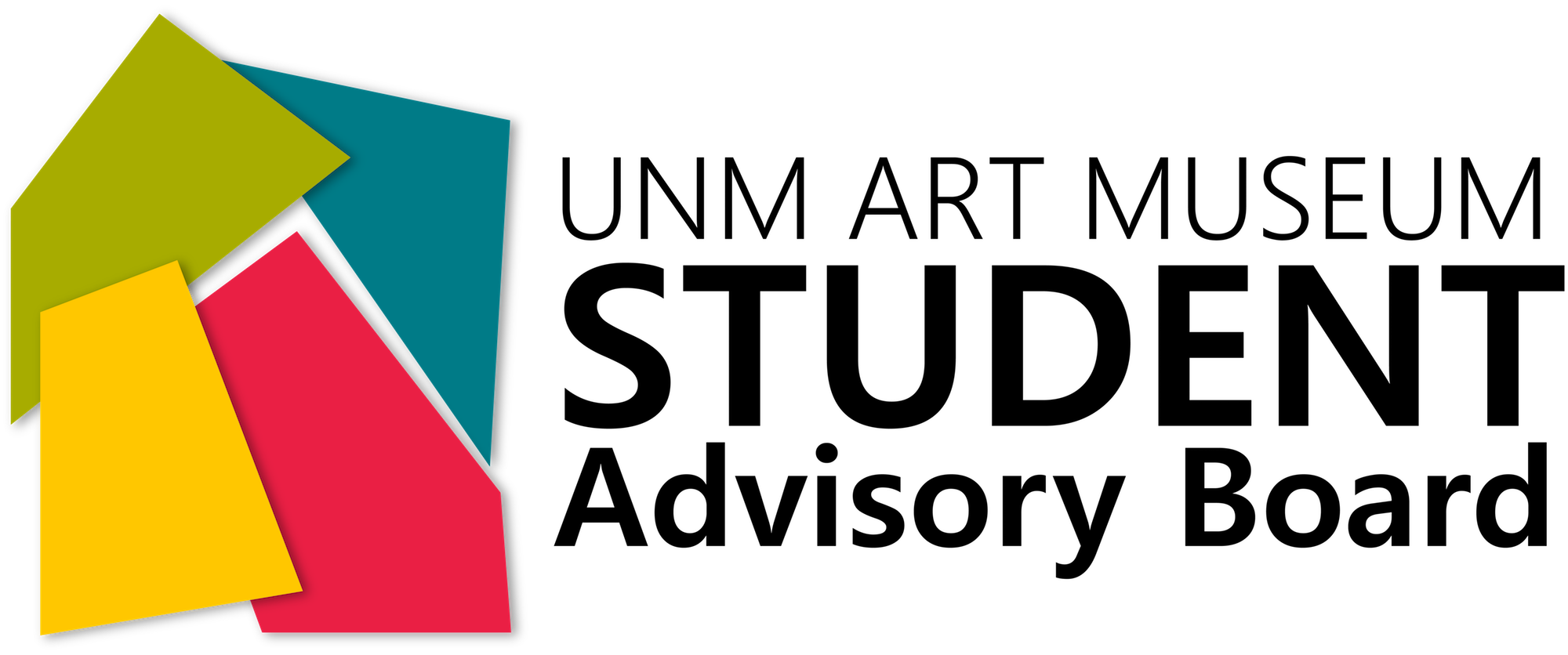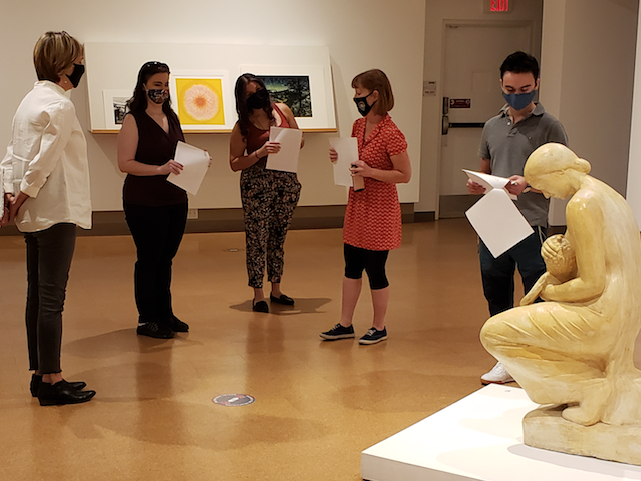 The UNM Art Museum Student Advisory Board (UNMAM SAB or SAB) is a group of undergraduate and graduate students from all across the University of New Mexico dedicated to promoting an inclusive, accessible, and welcoming UNM Art Museum space for all University students. Together, SAB members plan student events inspired by the UNM Art Museum, its collection, or broader issues inside and outside the University. We are committed to empowering student voices, creating meaningful student connections, and facilitating ongoing student dialogues about critical subjects.
Want to join? Email us for more information. Get involved and connect with other students who love art!
Contact: artmuseumsab@unm.edu
Follow us on instagram @UNMAM_SAB
---
First meeting of the Fall 2021 semester: Saturday, September 25 at 11:00 AM in the UNMAM Upper Gallery.
---
Current Leaders:
President
Jeannette Martínez, PhD Student in Art History
Secretary
Beth Wilson Norwood, PhD Student in Art History
Celebrations
To celebrate The University of New Mexico's graduating class of 2020, the UNM Art Museum has collected well-wishes and words of encouragement from UNM Alumni. Class of 2020, we are so sorry that you did not get to experience a traditional ceremony, but your Lobo pack is celebrating your achievements. Congratulations graduates!
-UNM Art Museum Staff
Click here to view our collection of messages for the UNM Class of 2020 from past UNM Alumni.
Paloma Barraza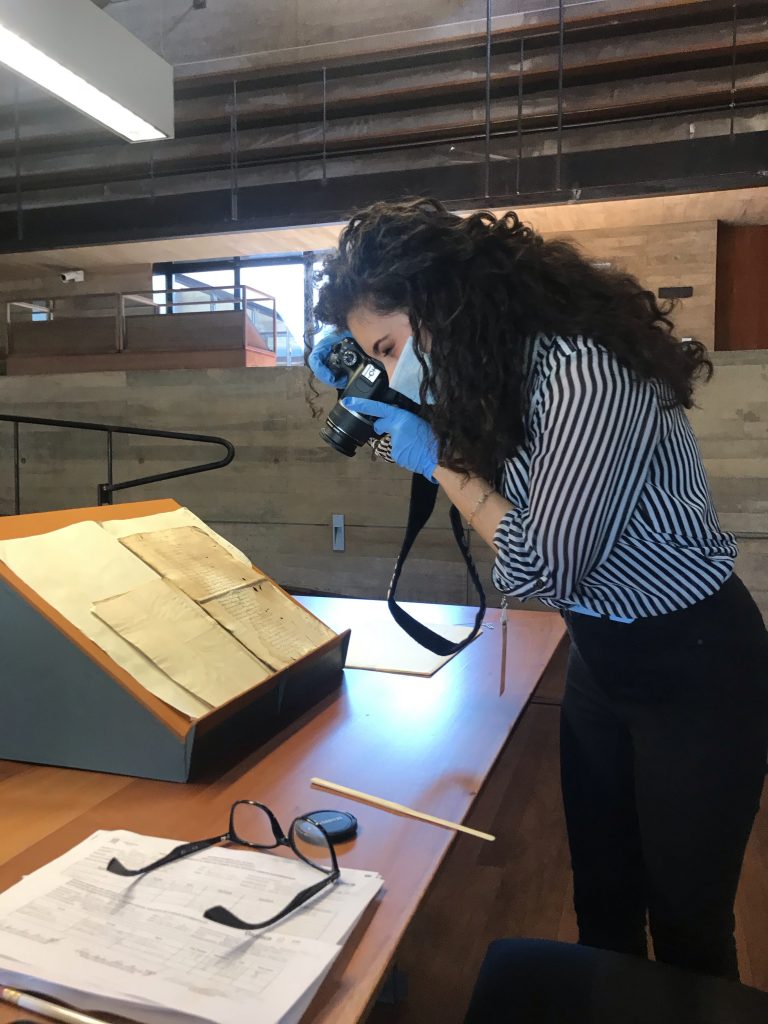 On April 7, 2020 we congratulated Paloma Barraza on the successful defense of her master's thesis! Paloma is a M.A. student, studying colonial Spanish America in the "Arts of Americas" Art History program. She is also a research assistant at the UNMAM and co-founder of the UNMAM Student Advisory Board.
We asked Paloma to share a summary of her thesis: "My thesis titled, "Pilgrimage to the Virgin of Juquila: The Negotiation of Catholic Institutional Power in Oaxaca," focuses on the small statue of the Immaculate Conception, known as the Virgin of Juquila from the small town of Juquila, Oaxaca, Mexico. The statue also has the third most popular annual pilgrimage in Mexico that began in the colonial period. In my thesis, I demonstrate how the Dominican missionaries used the statue as a mediator for religious conversion practices of Indigenous communities.
I received a travel grant to travel to the state of Oaxaca to visit multiple historical archives in Oaxaca City, as well as to visit the sanctuary of the statue, Sanctuary of Santa Catarina of Juquila in the small of Juquila, Oaxaca. I also visited the important landmarks along the pilgrimage route."
Many congratulations on this huge accomplishment, Paloma! Thank you for your hard work and dedication at the UNMAM. We are so grateful for all that you have done.
---
Jackson Larson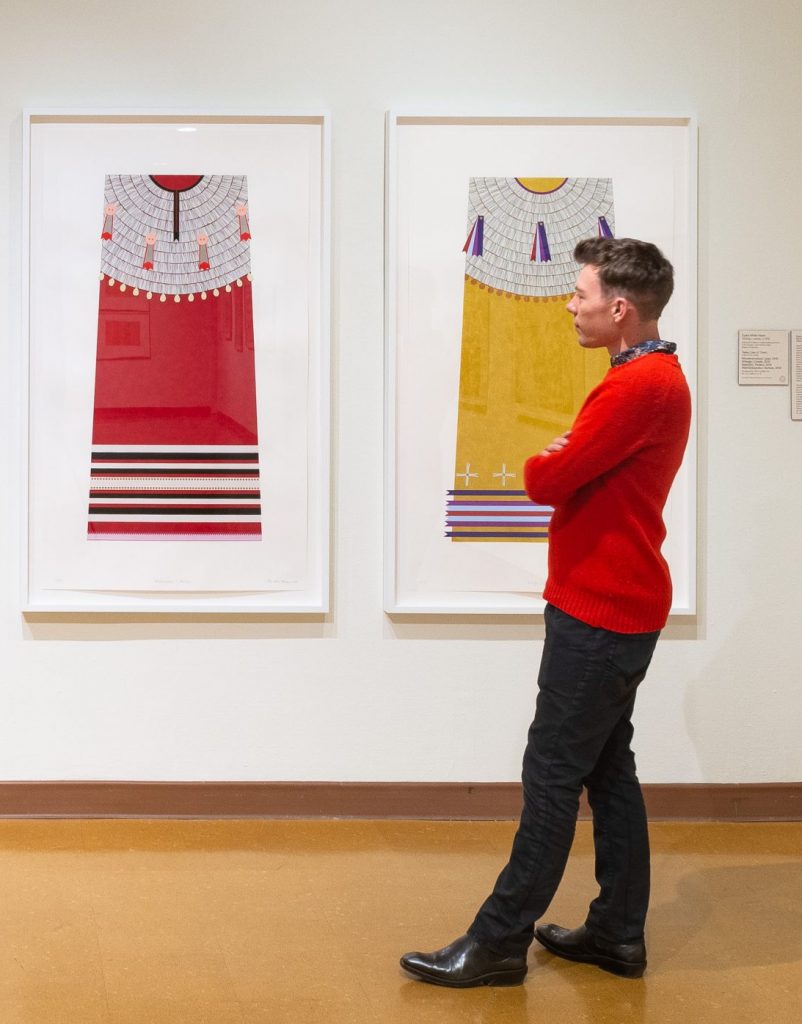 Jackson Larson is a curator and master's student in the Art History Department at UNM. He currently works as a project assistant for Dr. Mary Statzer, Curator of Prints and Photographs at the UNM Art Museum. During his time at the UNMAM, Jackson provided curatorial assistance for the exhibition Indelible Ink: Native Women, Printmaking, Collaboration. As a part of this project, Jackson designed an online catalog of the exhibition that includes interviews with all of the artists and collaborating printers. Click here to view the online catalog.
Last fall, Jackson graduated with a master's degree in Museum Studies at UNM. As a capstone for his master's, he co-curated the exhibition Heartbreak: A Love Letter to the Lost National Museum in Brazil at the Maxwell Museum of Anthropology, which is expected to open later this year. The exhibit is a response by the tragic fire at the National Museum in Brazil. Curating an exhibit of Brazilian objects was a way of showing solidarity with the National Museum and the shared mission of museums everywhere.
When asked about the exhibition, Jackson said: "I co-curated the exhibit in collaboration with Dr. Devorah Romanek, Curator of Exhibits at the Maxwell. I wanted to curate a museum exhibit as a part of my work in the museum studies master's degree program at UNM. I suggested a collaboration with Dr. Romanek, who had been working on a series of social justice exhibitions at the Maxwell. I was interested in the loss and preservation of world heritage. We decided to merge our interests and make an exhibit in response to the destroyed National Museum in Brazil. We wanted to look more closely at the fate of museums in general and shed light on Brazil's current political situation. The objects in the exhibition are entirely from the Maxwell's own collection, a testament to the breadth of university collections. The crown jewel, in my opinion, is a beautiful Kayapo feather headdress."
Congratulations, Jackson! We can't wait to see this exhibition at the Maxwell Museum of Anthropology. We are glad that you are continuing your graduate education at UNM in the Art History department. Thank you for making important contributions to UNMAM!
---
David Saiz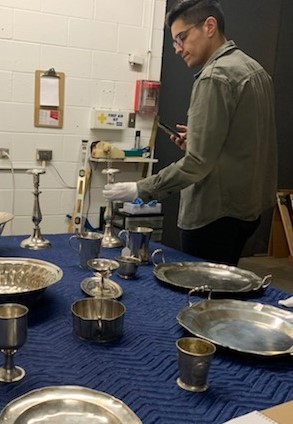 David Saiz has been a research assistant with the UNMAM since starting his graduate degree in the fall of 2018. He anticipates completing his Master of Art degree in Art History with a Minor in Museum Studies in the coming fall semester. By next year, he hopes to begin a doctoral program in Art History. His research interests range from U.S. art from the nineteenth-century to the present, queer U.S. Latinx art, New Mexican art, and the pedagogical imperatives of museums. David has also been a research assistant with the National Hispanic Cultural Center Art Museum since 2017 and, this summer, will be a curatorial fellow at Crystal Bridges Museum of American Art. As an emerging art museum curator, David works to challenge the rigid and exclusivist legacies of art history and museums in the U.S. and beyond.
During his time at the UNM Art Museum, David and Paloma Barraza (research assistant) created the UNM Art Museum Student Advisory Board (UNMAM SAB). Beginning with focus groups and surveys, the UNMAM SAB became an opportunity to reach out and engage university students more directly. Members of the board were active in creating programming for the museum, with monthly meetings becoming moments for students to voice their needs and interests. Additionally, David did extensive research for the permanent collection and was involved with the Museum's Acquisition Fund—a donor-based effort dedicated to collecting artwork from institutionally marginalized communities.
We've recently shared a blog post written by David Saiz, a research assistant with the UNM Art Museum. Click here to read "Albuquerque's Forgotten Collector: Mary Lester Field's Spanish Colonial Collection." The article focuses on the Mary Lester Field and Neill B. Field Collection, which is an important part of the UNM Art Museum's permanent collection.
Thank you, David, for your hard work at the UNMAM, both in your collections research and engagement with the student community.  We are thrilled to have you as part of our team!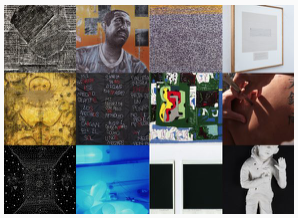 During the spring semester of 2020, the UNM Art Museum presented the University of New Mexico Department of Art's 27th Annual Juried Graduate Exhibition. The exhibition titled, Identity as Material, Material as Identity, features the work of twelve artists enrolled in the MFA Program and working in all mediums – painting, sculpture, printmaking, photography, sound/installation, and performance art. Click here to visit the virtual exhibition.
Student Voices
in HERE TO INSPIRE: UNM ART MUSEUM JOURNAL. If you would like to contribute, please contact artmuseumsab@unm.edu. Students may write on a range of subjects, including reflections on the UNMAM's collection to inspiration seen or experienced at the UNMAM. We are excited to include your voice!