Strange Days: River Stories Residency
By Zeke Peña, storyteller and cartoonist.
Greetings friend. My name is Zeke Peña, I'm a Xicano storyteller and cartoonist from El Paso, TX, and Las Cruces, NM. I'm currently writing from my virtual Art & Ecology residency during the Spring 2021 semester with UNM's Center for Environmental Arts and Humanities, which means I'm sitting at my drafting table all alone in my studio. Like all things this past 18+ months, this residency has been a bit strange, to say the least. Fortunately working alone in the studio is something I've done for a long time. Clocking into work and going into a video meeting with sweatpants on is something I'm very familiar with. Some might say work-from-home freelancers invented working in pajamas. Nah, no one says that. But what an amazing thing most of us have now experienced quickly throwing on a wrinkled shirt seconds before sitting down in our underwear for a virtual meeting – there's a humility in that experience, I hope we all are better for it.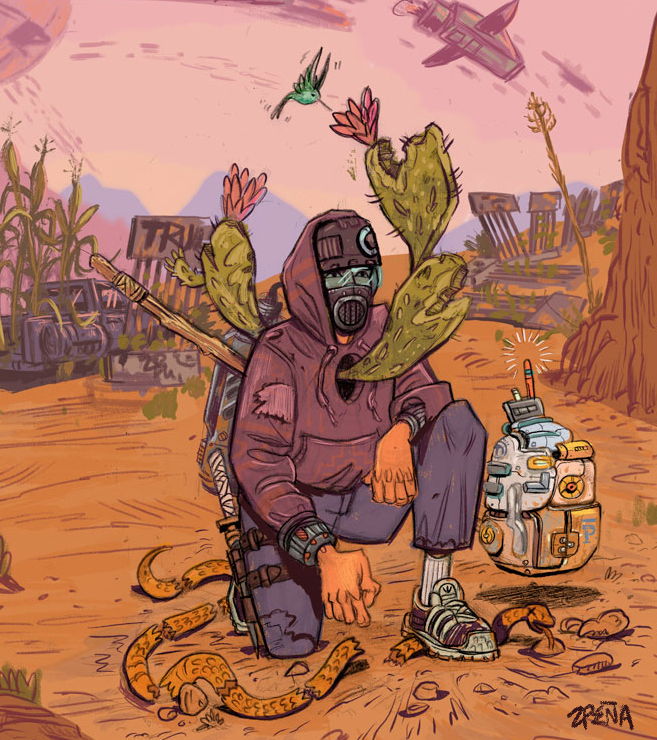 In the desert, we instinctively understand the importance of water but most of us are only familiar with faucet water or rain. The focus of my work during this residency and over the past several years has been the section of the River that runs through the Paso Del Norte Region. The significance of the River in our community, culture, and history is obscured by decades of erasure and border militarization.
I'm not a scientist or a hydrologist but I'm interested in the cultural, social, and historical relationship the communities of the Paso Del Norte region have with the River. This special River has sustained my mother's family in the Mesilla Valley for generations, but I didn't grow up with a deep understanding or connection with the River.
I trip out on that PBS show1 where they research people's ancestry and are able to find generations of relatives traveling across entire oceans. Meanwhile, I could literally throw a rock into Mexico but don't hold much history about my family from there.
In middle school, I learned about Mexico in a Texas history curriculum that was problematic and incomplete. In class, we watched The Alamo, a movie where John Wayne gloriously "saves" the US from all the Mexicans and that guy Davey Crockett conquered all the raccoons or something…?
The history of colonized regions is broken, cloaked in myth and often erased entirely.
During a workshop with a science class at Bowie High School in El Paso, TX at the Rubin Center for Visual Arts, students from both El Paso and Juárez confirmed what I know from my own experience – they see the river as a boundary first, then a river.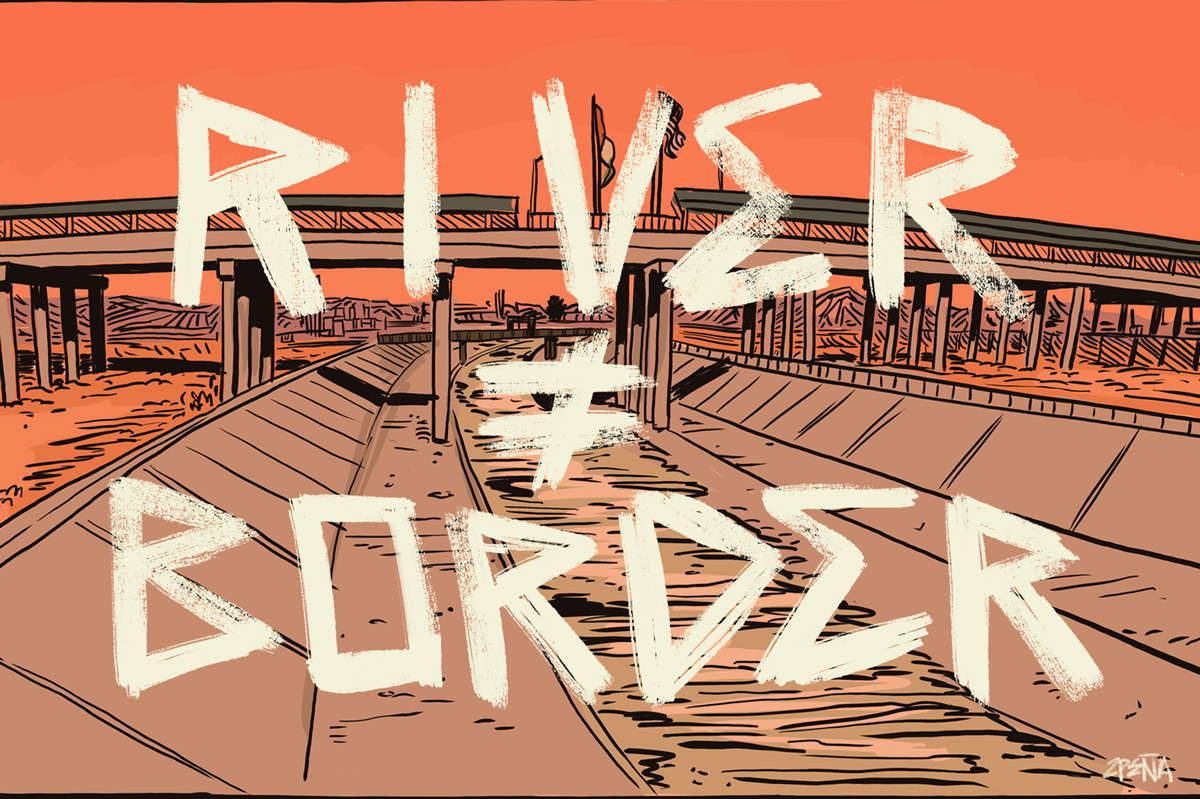 Asking young people from this region about the River uncovers a generational shift because so few of them have any memory of the river. Most of them have only crossed it on one of the many international bridges. In contrast, elders in the community have significant personal memories that precede the construction of the concrete canal that channelized the River after the signing of the Chamizal Treaty in 1965. Their memories also precede the border wall that continues to be violently constructed against the will of the community. The lack of knowledge and relationship with the River that increases with each generation leaves a void for the River space to be further occupied and destroyed.
What we are experiencing today with a dry river bed most of the year is not normal. It wasn't too long ago the River flowed wild and free.
I offer you the following question: What is your and your family's relationship with the River? I encourage you to ask the elders in your life about the River. I hope they share a special story like mine did.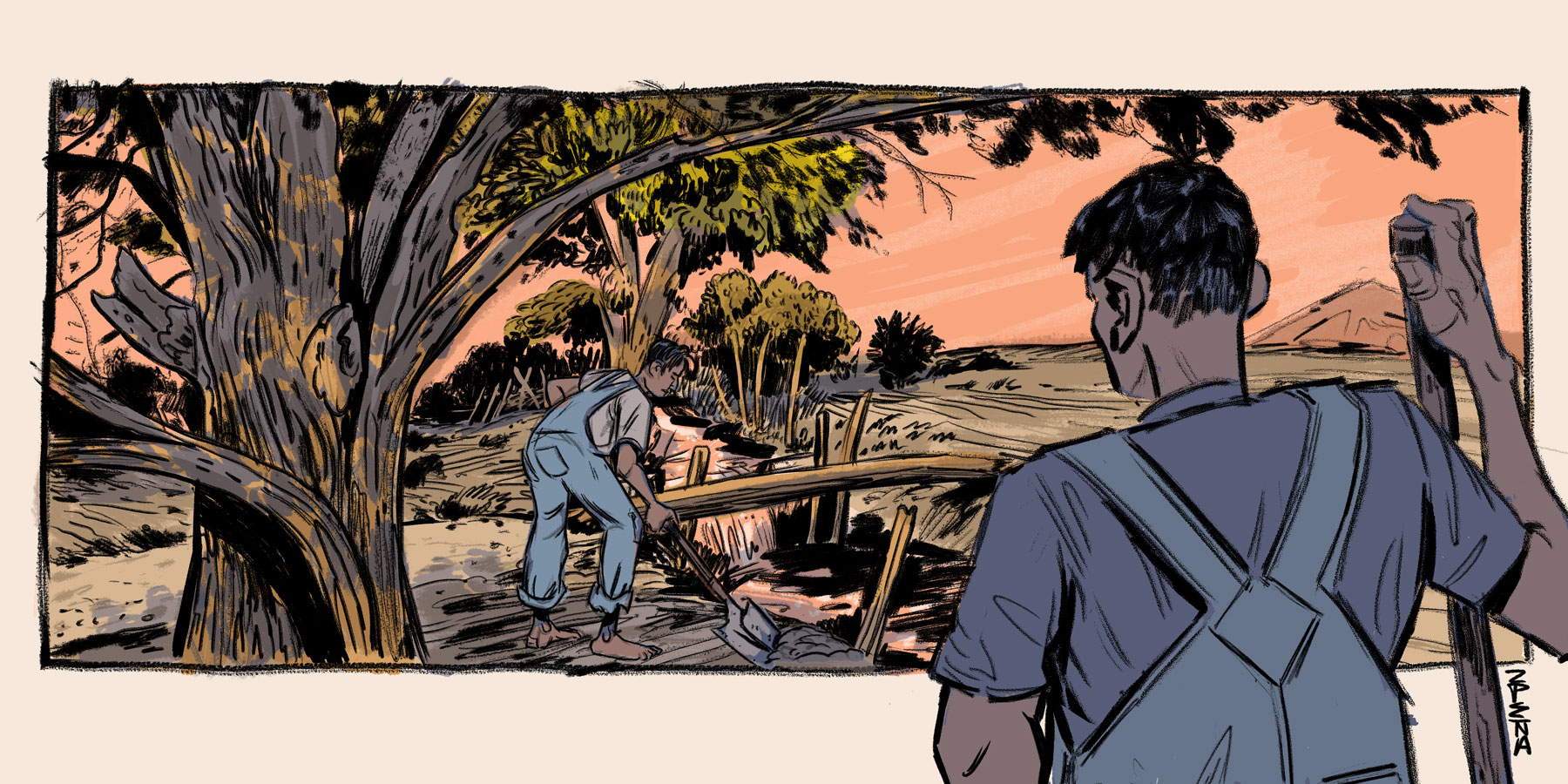 During my residency, I've been working on a few projects, including the next phase of River Stories2, a collection of short comics about the River and how it shaped the Paso Del Norte region. (Read River Stories at https://www.zpvisual.com/riverstories). I'm writing and editing a personal story about how the River shaped my family's life in a small farming community in southern New Mexico.
River Stories is meant to help heal our relationship with the River by reclaiming space for people to remember the River's past and our shared experience.
Our history in this region transgresses arbitrary boundaries, like the River flooding and changing the course of the international border between the U.S. and Mexico since its inception.
With the support and collaboration of friends in the community, I've learned more about our River's story. I'm especially grateful for friends of the Ysleta Del Sur Pueblo (Tigua), that I've connected with through this work, who have protected and preserved a relationship with the River over generations and have shared some insight – I continue to listen, learn and support.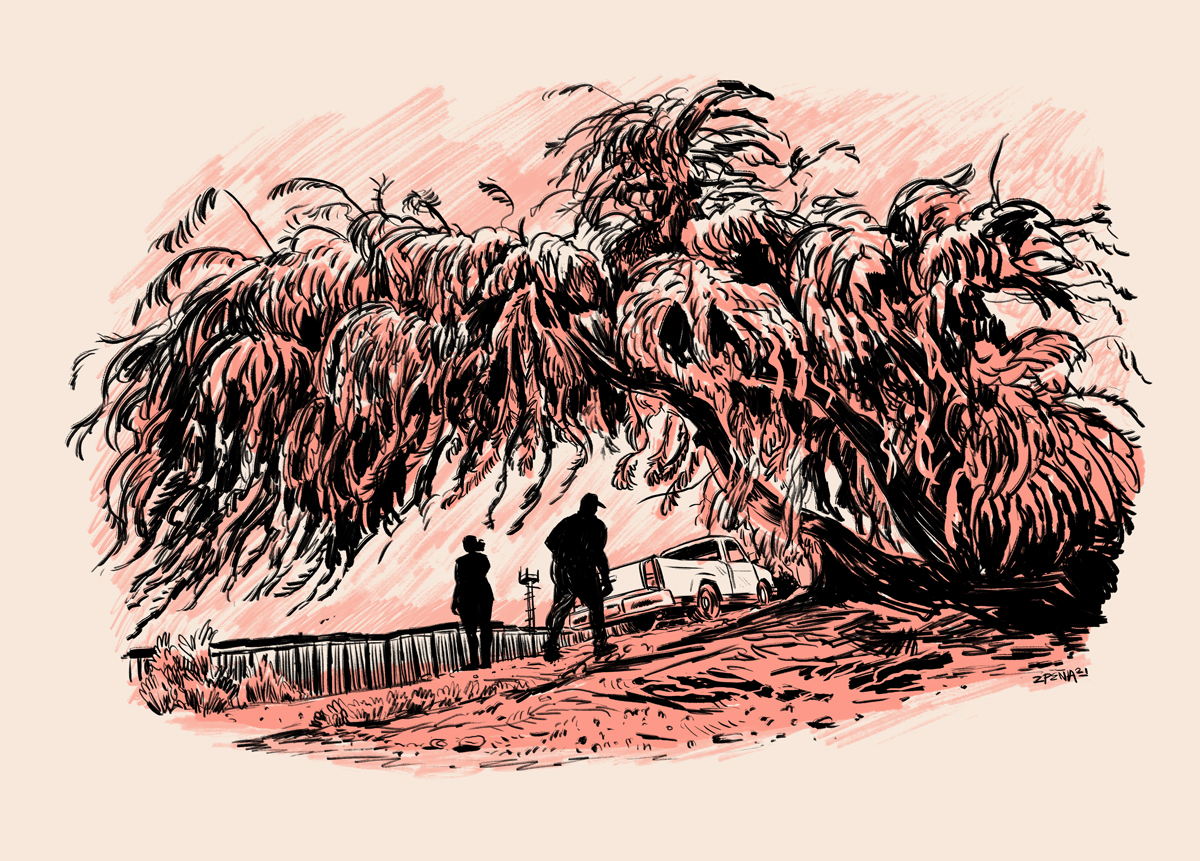 I've been working on a collaboration with Andrea Everett from the Ysleta del Sur Pueblo (YDSP), whose work examines how climate change will further impact the Native  American community of YDSP's (Tiguas) cultural continuity and access to riparian ecosystem services along the Rio Grande River. I'm developing illustrations to accompany Andrea's research. (Read more about Andrea Everett's work: "Impacts of Environmental Changes to the Middle Rio Grande Landscape on Ysleta del Sur Pueblo's Cultural and Ceremonial Sustainability")
I'm also working on a short book project about the impact of the U.S. Farm Bill on the Paso Del Norte region in collaboration with La Semilla Food Center in Anthony, NM. The  project is funded by La Semilla's Community Narrative initiative and the lead writer is my friend and collaborator Rubi Orozco Santos. (Learn more about La Semilla's work at https://www.lasemillafoodcenter.org/ )
Finally, I've had some great conversations and virtual studio visits with students at UNM. These interactions have been inspiring and fruitful. The work these students are developing is exciting and I'm looking forward to following their progress.
Thank you so much for spending a part of your day reading this. I know we all have a lot going on right now so I appreciate you taking the time to learn more about my time during my residency.
To learn more about the progress on these projects you can visit: http://zpvisual.com and my IG + Twitter: @zpvisual
1. The PBS show is titled Finding Your Roots with Henry Louis Gates, Jr.
2. River Stories was partially funded by a NALAC Arts Grant in 2019.