Hindsight Insight 3.0: Portraits, Landscapes, and Abstraction from the UNM Art Museum is the second version of the UNM Art Museum's hybrid project space and exhibition devoted to complicating existing narratives about racism, colonialism, and gender stereotypes while de-centering curatorial authority and institutional voice. Created and curated by museum staff and collaborators, the exhibition features portraits, landscapes, and abstract artworks from the permanent collection that complement the curricula of the University of New Mexico's Department of Art and Art History during the Fall 2023 semester.
The intention behind this ongoing experimental project is to honor and engage student and faculty perspectives, interests, and concerns to make art relevant and alive for the UNM Art Museum's core audience. From Spring 2023 through Fall 2024, the museum staff is developing multiple iterations that engage the university community to generate critical dialog that resists static presentation and fixed interpretations.

-Mary Statzer, Curator of Prints & Photographs
Hindsight Insight 3.0 is an extension of the classroom created by museum staff and UNM professors Amanda Curreri, Kevin Mulhearn, and Ray Hernández-Durán. Students in each class will activate the exhibition and contribute research, writing, and presentations. These collaborations celebrate UNMAM's role as a teaching museum that engages the broader campus community.
From the Collection
Hindsight Insight 3.0 is organized into thematic sections that will be activated by UNM faculty and students throughout the Fall 2023 semester.
But History and I features seven pieces by Amanda Curreri, UNM Assistant Professor of Painting & Drawing, that explore themes of immigrant experience, labor history, and community. The inclusion of Curreri's queer and activist work fills a gap in the museum's collection. Curreri's contributions also include ongoing activations that involve students in her course "ACT_ON/ACT_IN" and the public.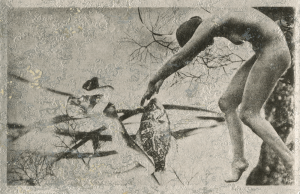 Evolving Vision: 20th Century Photography was conceived by Mary Statzer, UNMAM Curator of Prints and Photographs, and Kevin Mulhearn, UNM Assistant Professor of Art History. This section features American and European avant-garde photography from 1917 to 1950. It includes a cross section of technological and stylistic developments in photography during that period. Throughout the semester, students in Mulhearn's "Twentieth Century Photography" course will research the photographs to provide written contributions to this section.
For Every History Told: Chicano and Latinx Art and Representation was developed by Angel Jiang, UNMAM Curator of Collections & Study Room Initiatives, in collaboration with Ray Hernández-Durán, Professor of Art History at UNM. This section highlights the ways that artists use varying visual strategies and devices—from portraits to personifications—to critique historical narratives and represent personal and communal identities. Students in the class "Chicano and Latinx Art" will study, research, and present on works featured in this section.
The Reading Room holds a variety of books selected by the collaborators – Marcella Ernest, Amanda Curreri, Ray Hernández-Durán, and Kevin Mulhearn. The books are thematically paired to each section of the exhibition. A computer and scanner are available in the reading room, allowing visitors to access digital works and scan chapters.
Along with the materials in the Reading Room, this section of our website features a variety of digital resources such as articles, databases, museum collection pages, and videos that expand on the themes of the exhibition. Explore the digital resources selected by each collaborator below!
Amanda Curreri
Ray Hernández-Durán
Kevin Mulhearn
Collaboration in process…
Hindsight Insight 3.0 is an ongoing process. Watch this space for new articles, upcoming events, and invitations to engage with the exhibition.
Looking Back
Hindsight Insight 3.0 is part of an ongoing exhibition series that began in the spring of 2023. Through this ongoing initiative, UNMAM invites the university community and other collaborators to actively participate in the development, presentation, and interpretation of the exhibition. Review previous iterations of the series here:
Hindsight Insight 2.0: March 3 – July 29, 2023
Hindsight Insight 2.0 and 3.0 were made possible by a generous grant from the Terra Foundation for American Art. The Terra Foundation for American Art, established in 1978 and having offices in Chicago and Paris, supports organizations and individuals locally and globally with the aim of fostering intercultural dialogues and encouraging transformative practices that expand narratives of American art, through the foundation's grant program, collection, and initiatives.