BEAUMONT NEWHALL
Study Room
What Is It?
The Beaumont Newhall Study Room provides access to works on paper, paintings, small sculptures, and decorative arts from the UNM Art Museum's vast collection. This rich resource is available to scholars, students, and faculty. Information for visits and policies are listed below.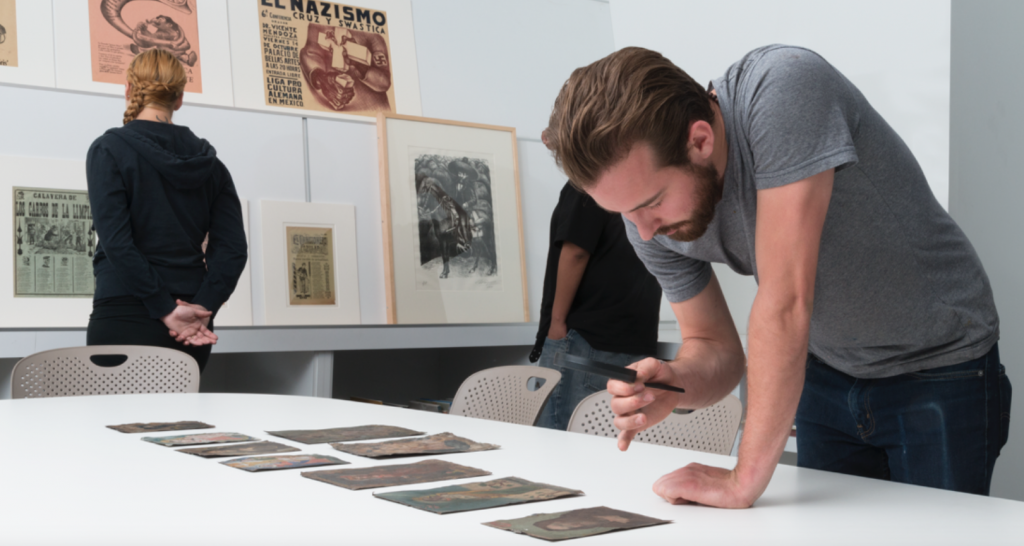 Contacting Us
The Beaumont Newhall Study Room is open by appointment Tuesday through Friday, 10:00-11:45 am and 1:30-4:00 pm. Please contact Heather Kline, Collections Associate, (505.277.2953, hkline@unm.edu) to schedule a visit.
We are located in the Center for the Arts building on the upper level accessible via the elevator in the UNM Art Museum foyer. All classes and visitors must enter through the main museum entrance to check backpacks, studio aprons, bags and other items at the front desk before proceeding. All visitors are asked to sign in and to read the guidelines for using the facility.
If you wish to see collection materials please email the name of the artist(s) or types of works you wish to study—for example, Ansel Adams, non-silver photographs, etchings, 20th century photographs—when you schedule an appointment. Collection lists are available and museum staff can help refine your search. Materials can be made available for a scheduled return visit. If students are reviewing work for class assignments, please advise them to visit the Beaumont Newhall Study Room early. Space is limited and a maximum of 8 students can be accommodated for individual viewing at one time.
The Beaumont Newhall Study Room may be scheduled for class visits Tuesday through Thursday, 10:00-11:45 and 1:30-4:00 pm. We accommodate groups up to approximately 20 students. For larger classes we recommend dividing the class into smaller groups. Please contact Heather Kline to schedule visits via e-mail. Instructors should inform the curatorial staff of the materials they would like their classes to view at least one week prior to the visit.
Please schedule your appointments early in the semester. While we do assist in your visit, the curatorial staff assumes that all teachers have selected materials based on specific predetermined lecture topics and that you alone will be lecturing and conducting the class. Although the curatorial staff is knowledgeable on many subjects, we cannot know the content of your class or syllabus and as the teacher, you are the best individual to present the course material to your students.
PLEASE NOTE:
Only the curatorial staff is permitted to handle collection materials. If you are bringing a class, please familiarize them with the caution that must be exercised around unprotected artwork. Remember that most students have not had any experience with or exposure to original and valuable works of art.
Education
Tours & Group Visits
Guided Tours
In order to foster museum visits that are engaging and meaningful for everyone, we practice inquiry-based, open interpretation, and experiential learning during our tours. While museum staff highlight important information regarding our collection and current exhibitions, the touring styles we use focus on interactive approaches to gallery learning and ask visitors to actively participate in the experience.  Through this type of education, we hope to foster a collaborative discovery of meaning.
Group Visits
We understand and value the experience of a self-guided visit.  If you would like to bring a group and lead them on your own, we ask that you book all group visits of 10 or more in advance. This enables us to best provide high quality experiences for all visitors. To schedule your visit, please e-mail dgeraci@unm.edu at least 2 weeks prior.
Please plan your group tour / visit at least 1 hour prior to closing in order to ensure that there is enough time to wrap up discussions.